Dr. Bansi Mithani Doescher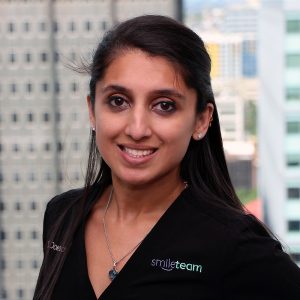 Dr. Doescher is a 2009 graduate of the prestigious Tufts University School of Dental Medicine in Boston, Massachusetts.
Dr. Doescher strongly believes in helping aspiring dentists realize their goals. She has actively mentored over 10 high school and college aged students to go to Dental School. She is proud to help usher in the next generation of Dentists just the same way that she was fortunate enough to be.
Dr. Doescher is an active participant in the South Jersey ADA and participates in a variety of continuing education courses to make sure her patients are routinely receiving the most state of the art dental care and technology.
While she is Dr. Doescher in the office, at home she is a mother to two wonderful children that she cherishes, Mason and Madeline.
Dr. Viraj Ganesan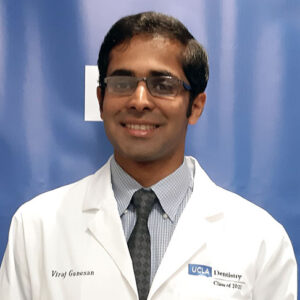 Dr. Viraj Ganesan completed his Doctorate of Dental Surgery at University of California, Los Angeles. He is originally from Chennai, India where he graduated with his Bachelor of Dental Surgery.
Dr. Ganesan considers a beautiful smile and good oral hygiene as important factors for overall health and well-being. He is trained in all major aspects of General Dentistry, with a particular interest in preventive and restorative dentistry. Dr. Ganesan strives to keep abreast of the latest practices and techniques to deliver the best care possible.
Apart from teeth, Dr. Ganesan likes to travel and explore new places, try out different kinds of food and experiment with cooking. He enjoys being outdoors and playing sports.
Dr. Christine Pereira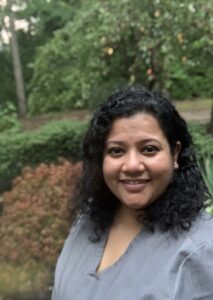 Dr. Christine Pereira graduated dental school from the prestigious University of Pennsylvania School of Dental Medicine in 2011 and has been practicing in Pennsylvania and New Jersey ever since. Dr. Christine is dedicated  to the art of dentistry and remains current with the latest advancements in dentistry by taking a wide range of Continuing Education courses.
In her spare time she loves socializing with friends and family. She also enjoys traveling, going to the beach, trying different cuisines and dabbling in arts and crafts.
Dr. Dilara Altuner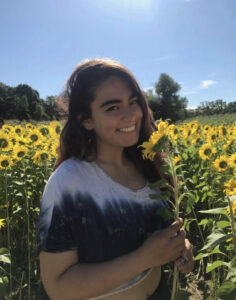 Dr. Dilara Altuner is a graduate of Boston University School of Dental Medicine and is originally from Long Island, New York. She dabbles in all aspects of dentistry and loves being the reason for smiles! She is often referred to as the "care bear" of dentists due to her gentle nature, soft hand skills, and her ability to ease even the most anxious of patients. With a human approach, Dr. Altuner strives to help patients be as comfortable as possible during their visits.
In her free time, Dr. Altuner loves art, live music, songwriting, car camping, aerial dancing, rollerblading with her dog named Moose. She is a self professed falafel snob and rollercoaster fanatic!
Dr. Ashley Li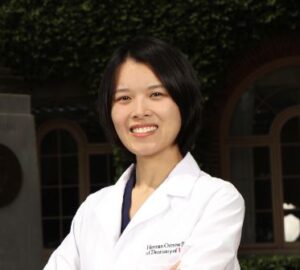 Dr. Ashley Li obtained her Doctor of Dental Surgery from Herman Ostrow School of Dentistry at the University of Southern California in Los Angeles, CA. She is a dean's list graduate and a scholarship winner for international dentists who earned top academic and clinical achievements.
Dr. Li completed her dental study and practice in 2017 in China where she was born and raised, and then continued to pursue her dental career in the United States. She completed her Master's training at UCLA in 2020 with research publications about dental chronic pain and migraines.
Dr. Li strives to provide careful dental treatments that give patients the best comfort. She stays up to date with new technologies and standards of dental care through active participation in continuing education courses and dental organizations. She finds it very rewarding to see her patients smile with satisfaction.
When she is not practice dentistry, Dr. Li enjoys rock climbing and badminton, as well as cooking for her family and friends.
Dr. Soula Christou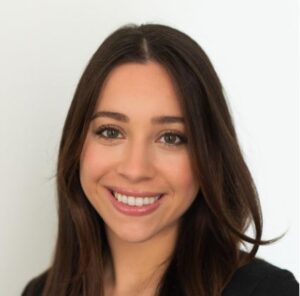 Dr. Soula Christou was born and raised in Delaware County, but her family has roots in Greece and Cyprus. She completed her undergraduate training at the University of Maryland and received her Doctorate in Dental Medicine from the University of Pennsylvania School of Dental Medicine.
Dr. Christou is committed to providing high quality and compassionate care for her patients. She enjoys educating her patients about their dental health needs. Dr. Christou prides herself in being gentle and helping patients feel comfortable during dental treatment.
In her free time, Dr. Christou enjoys spending time with her family, cooking, and traveling. She loves being active and going for walks with her dog, Zoe.